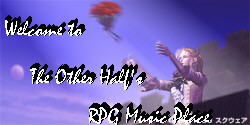 Welcome to the ultimate music place for RPG music 'n stuff. So have fun listening to these rockin' midis and don't forget to pledge alligance to the bats and cows. May BEP live on forever and ever!!!



Where would you like to go?

Comming soon: You Kow You Play Too Much FF When

Number of Kamikaze bats who have dive bombed rabid toasters.
FastCounter by LinkExchange
-






Any questions, comments, requests, rabid toasters... send them to The Other Half



If you would lke to link to my page, please use this banner.